Latin America
More than 572 million people populate the countries that make up Latin America. From the northernmost border of Mexico to the southernmost tip of Cape Horn, a rich blend of indigenous, European, and African cultures makes Latin America one of the most diverse regions in the world where a multitude of people groups live in a huge variety of locales and speak any of the hundreds of languages. Common concerns include widespread poverty, ethnic tensions, political struggles, and the moral devastation caused by illicit drug trafficking.
Testimonies:
"Play it for everyone"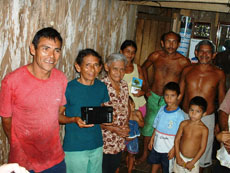 Members of a remote community in the Amazon River Basin, accessible only by boat and rainforest trail, were blessed and excited to receive this Proclaimer and hear God's Word in their native Portuguese. The woman holding it immediately and enthusiastically volunteered to host a Faith Comes By Hearing listening group and "play it for everyone."
Congregants are Blessed by Audio Bible
Pastor Ernest testifies that God has been working in a special way in his congregation after starting [Faith Comes By Hearing]. He has increased the membership with 15 new converts. Also, he tells us about one sister who was suffering from headaches for over six months and, while she was participating in the program, God healed her.
Sister Naomi testifies that the children are learning the Word with great liveliness and that at the end of listening they do a deep spiritual analysis of every story. Furthermore, she shared that a group of elderly people had very low self-esteem, since they didn't participate in church activities; but now they have received such knowledge that they are now leaders in the church and are very motivated and have high self-esteem.
Riki from Arca de Dios [Arc of God] Church, for whom they take [a Proclaimer] to his house because he is sick, testifies that in spite of his illness he has received great strength from God through hearing about the ailments of Paul, and he says that for the cause of Jesus, suffering is worthwhile.
Pastor Carlos tells us that his work has extended even to the bateyes [poor communities], and two families were impacted by the Word: one with eight members, and the other with nine. They have come humbly to the feet of Christ and the church has experienced a revival through the [Faith Comes By Hearing] program.
Faith Comes By Hearing and JESUS Film
The Sarnami Hindi recording was completed in September 2009. The JESUS film was soon afterward shown in May 2010 with a listening group follow-up, using the Proclaimer®. The small group watching the film was very enthusiastic about seeing it in their own language. They also listened to the Proclaimer®, concluding that the film and the Audio Bible were both very powerful. They discussed many things, such as:
Was there jealousy among the 12 disciple?
If someone borrows something from you should you ask for it back?
What should you do if you are the only Christian among non-Christians and there is a religious celebration—how should you react so you don't offend the non-Christians?
The discussion among the group gave the following answers:
If you make a commitment you have to keep it whether you signed a contract or not
You have to be very careful and act in wisdom because you want to win over those non-Christian souls for Christ
We must make it clear that we are Christians and we don't celebrate with them
The words of Jesus were very clear to them and it inspired them to do as He said. We must choose for ourselves to serve God and respect God or not to respect God. Matthew chose for himself to serve God.
He Sent His Word, and Healed Them
She touched her mother's hand. It was cold. She wanted to wrap her in her arms and hug her one more time, wanted to tell her she loved her, wanted to feel her mother hug her back, but she knew with her body getting stiff like that it would be awful. Not like hugging her mother at all.
They put the covering back over the little bit of her mother's body they had let her see. "We're sorry, we need to take her now."
Hands gently pulling her back, people carrying her mother away.
The earth moved and the sky shifted as she struggled to stay standing.
She walked home, climbed into her hut, and crawled as far as she could away from the opening. She wanted to ask her mom what she should do now. But her mom wasn't there to answer. For as long as she could remember, it had just been her and her mom. And now she was gone.
She sat there alone till it became dark. Who had killed her mother? Why? What if they came to kill her? She hid as much as she could and stared at the door—a dark opening gaping against the sky.
She heard her mother's voice and looked around. Mom? But no one was there.
It was day, then night, then day. She didn't know how many. She was starved, and the dried meat and fish were gone. She waited until it was quiet outside to get something to eat from the gardens. She had gone out once when people were around, but it was hard to talk with the huge hole in her heart swallowing her whole.
It was night again. She rocked back and forth, staring at the door, hoping desperately her mom would come through it, and afraid that whoever had killed her, might. Pain began ripping at her stomach. She clutched her stomach and bent over. She had never felt such pain.
Day, night, shadows, grief, fear.
Finally someone came.
"Are you ok?"
"Are you ok?"
She didn't answer because she thought maybe they would disappear like the apparitions of her mother and others that had been coming to her.
They picked her up and took her outside—the sun hurt her eyes. "Are you ok?"
Maybe they were real. She tried to answer, but a slurring sound came out of her mouth. Pain tore at her stomach again and she bent over, her face contorting.
Voices swirled around her— "What's wrong with her?"
"I don't know. I found her just sitting there."
"We haven't seen her for awhile. Do you think she's been like this since her mother was killed?"
"Why is her face contorted like that?"
They all stopped talking and stared.
"She has a demon."
People moving away.
"Take her to the pastor in Panama City."
The pastor, Hernan Sanchez,* and the missionary, Feliciano Alvarez,* prayed for her. They determined she wasn't demon possessed, but had an emotional problem. They took her to the doctor.
The doctor said she was traumatized because her mother was killed and she was left alone. He gave her some pills, but no one knew what to do. They went back to the church and offered her a mat to rest on.
The pastor put a black box on a chair. He pressed a button. Matthew, Matthew chapter one. A record of the genealogy of Jesus Christ . . . The voice was strangely comforting, and was in her language.* She listened.
A voice was heard in Ramah, weeping and loud lamentation, Rachel weeping for her children; she refused to be comforted, because they are no more
Like her mother . . . no more . . .
Jesus went through Galilee . . . healing every disease and sickness. . . those suffering severe pain . . . and he healed them . . .
If I only touch his cloak, I will be healed . . Take heart daughter, your faith has healed you. . .
She listened for two hours, with the words beginning to wash over and through her, slowly infusing her with strength. She had felt so weak, like a dry leaf about to crumble into tiny pieces, ready to be blown away by the wind.
Come to me, all who labor and are heavy laden, and I will give you rest. Take my yoke upon you, and learn from me, for I am gentle and lowly in heart, and you will find rest for your souls.
After taking a break, she kept listening to the Proclaimer—
Peace I leave with you; my peace I give to you. Not as the world gives do I give to you. Let not your hearts be troubled, neither let them be afraid.
She listened for three days, the Word of light casting out darkness, the Word of peace dispelling torment and confusion, the Word of life infusing her with strength.
She had spent the last month staring at the empty door, hoping her mother would come back in. Now, when she heard, I am the door. If anyone enters by me, he will be saved and will go in and out and find pasture, she saw a large shining door with Jesus standing in it, welcoming her. She began to cry.
Feliciano says, "By the third day of listening to Scripture, she had completely calmed down and was speaking coherently once again. She stayed in Panama City for another week, then returned to her village, completely healed. The Sword of the Spirit had done its job."
*Names and locations are omitted or changed to protect those living and working in sensitive areas.
Faith Comes by Hearing in Latin America: