Audio Bible Russia
in
God's Word in Audio - Testimonies
Associates gather information and testimonies about what God is doing in and through Audio Bible listening programs in heart languages around the world.
---
"There is nothing to fear . . . "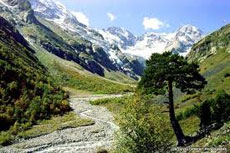 One woman was the only Christian in her family. The very first time she and some relatives listened to the Proclaimer, a surprising thing happened when her husband arrived. Usually when he came home, he was either drunk, yelling at everyone, or cursing. However, this time, after hearing the Word of God as he came in, he entered quietly, sat down, and listened in silence for an entire hour.
The next day he took the Proclaimer to work and listened nearly all day. After work, he returned home with his wife using public transportation. He wanted so badly to continue listening that he turned the Proclaimer on in the bus. His wife told him that he shouldn't disturb the other passengers, but he answered: There's nothing to fear; let them all listen. They won't hear anything like this anywhere else.
As a result of faithful partners, the Lord began the process of changing the lives of this man and so many others. God not only gave him a great desire to listen to the Word, but to go to church as well.
A Mother's Testimony
Larisa is 82 years old and has been a believer for 30 years. She says, "My age and illness do not allow me to attend a church to receive spiritual nourishment. For the first time I had a chance to listen to such a 'radio' when I was in the hospital. Another believer in a nearby ward brought a Proclaimer® with her.
Every day all the patients gathered around the radio and listened to the Word of God in their native language, Ossetic. Unexpectedly, she was released from the hospital, but not everyone knew about it. When people gathered together to listen to the Proclaimer® and found out she was not there anymore, many were upset by the fact they no longer had a chance to listen to God's Word. When I was released from the hospital and sent home, God had miraculously taken care of me and sent me His living Word. My joy had no end. Now I have an opportunity to listen to the Word with my unbelieving family. My 60-year-old daughter listens with joy. Her life and her attitude toward God is being changed."
A Daughter's Testimony
Larisa's 60-year-old daughter testifies: "We listen to the radio almost every day. My grown grandchildren who are 15 and 17 years old come to my house and listen very attentively, especially the oldest grandson. His father
is in prison and we are trying to expose him to God's Word. We are all worried and hoping that my grandson does not follow the same route as his father. I, myself, like this amazing invention as you can call it. I am surprised how much thought and effort was put into it by those who came up with it. I read the Bible before but it was hard to understand. I had to begin reading the Children's Bible. However, when I started listening to the radio everything became clearer, and I even remembered the parts I read before and did not understand. Earlier in my life I was indifferent to God's Word, but now every Word reaches my heart. The language is very simple, understandable, available. By listening to the Word we can see all of our sins and mistakes. My mother and I thank you for your work."
---
The Roma in Russia - Gathering in Homes
The Romani New Testament recording encountered many challenges. The Roma people, predominantly gypsies, could not read their language because it had been banned for many years. In spite of the difficulties, the recording was completed and now there are listening groups in various homes throughout Central Russia. The FCBH Representative even hopes to plant a gypsy church with a gypsy pastor.
---