Audio Bibles for the People of Philippines
Testimonies
---
Shop Owner, Soul Winner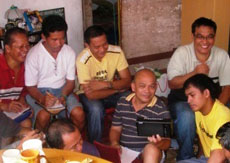 Ned owns a machine shop. He has been experiencing severe headaches for which he consulted several doctors only to find out there is no cure. A pastor friend of Ned's invited him to an Audio Bible listening group, which is now held in Ned's machine shop. Ned committed his time to God's Word and prayer. He realized that if he can fix cars as a mechanic, what more can our Creator do for His creation.
During one of the listening times, the pastor prayed over Ned and to his amazement, Ned got what he was looking for—not just a cure but total healing of his body!
The listening group now includes Ned's family and 15 mechanics—each person is enlightened by the discussions and is experiencing salvation, and the machine shop is prospering.
"Praise the Lord for the Proclaimer!"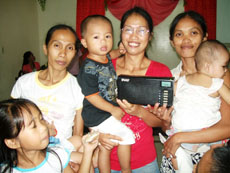 "Praise the Lord for the Proclaimer! I shared it with the commander of a military group. After listening, he came to my house and shared what a blessing it has been to him. He told me they listen to it right in the middle of their camp every night! I hope this ministry will continue and that adherents of the group will come to know the Lord."
Hearing Is Believing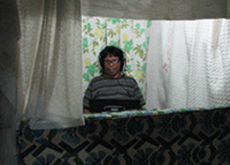 The Proclaimer has had a big impact in my life. I was the youth president at church, but turned from God and joined a gang. When the Manobo New Testament was recorded, I was a reader. I knew returning to God was good, but I was still unable to bear my trials and continued to do bad things. When I later heard the message on the Proclaimer, I realized that I am a son of God and He wants me to live for Him. When pastors came looking for people interested in Bible school, I decided that I could be of use for the work of God, and today I am one of their students. - R. P.
---
Proclaimer Helps Plant Church
A Christian couple, working on one of the islands, tells Faith Comes By Hearing: "Thank you for your kind help of Proclaimer® talking Bibles. Please know that we really appreciate this tool for pastoring the church at the tribal villages. We would appreciate more units for our tribal mission works.
"[We work in a] newly planted church, which is the only church in that village. People are so hungry for God's Word that the Proclaimer® is a great source of strength and help in this trying time of their faith. Away from modern civilization and without electricity, the people appreciate the solar-powered Proclaimer® for their spiritual feeding of God's Word."
Kids of All Ages are Fed
Cebuano language Proclaimer® unit was delivered to Pastor Garry of a church on the island of Mindanao in the southern Philippines. Pastor Garry works among the poorest of the poor and they are presently overseeing seven of our feeding programs for children, called Hope Centers. Through these centers and other church programs, the church is serving over 500 children each week. The children are fed nutritious meals and are discipled.
The vision Pastor Garry has for the Proclaimer® is to use it on local outreaches, and also to have time at each Hope Center gathering where the children, along with their families, can listen to the Word.
Pastor Garry's church has also begun a ministry to teens. Members from his church are tutoring and encouraging high school students and the church is also sponsoring a number of young people so that they can attend school. They plan to use the Proclaimer® as these students are at the church daily.
Pastor Garry has a passion for reaching the younger generations with the Good News of the Gospel and is so excited for the role the Proclaimer® Audio Bible will play in his church's vision!
- American ministry that supports international Christian work
"All of the listeners were so happy."
A field worker sent us this report from a Tagalog listening group in Valenzuela City.
Upon their listening session, all of the listeners were so happy and excited because it was the first time that they saw and heard a "Bible talking radio." Most of the old members were thankful because they really have had a hard time in reading the Bible and this kind of studying the Word of God became a very good way for them. They said that listening to the Audio Bible was the easiest way of consuming the Word of God in their hearts.
---
"Now I know that God is great."
A 50-year-old wife and mother says, "Although I was already a Christian, I experienced being weak in faith and spiritual life. I was troubled and paralyzed by indecision. I felt sorry for myself and had self pity. I lost hope for the future. It seemed to me that better days would never come. I became impatient of waiting on God's answer to my prayers.
By listening to the Word of God through the Audio Bible many things in my life began to change. First was that I came to realize that God really loves me no matter what I feel or experience. I was able to see that there are many individuals who are more unfortunate than I am and that I am not alone in suffering. I learned to recognize the goodness of God and His abundant grace for me. Now, the Word of God became my source of strength in which I can fully put my trust and in which I can entrust everything. My conscience was pricked and I realized how wrong I was in making God too small in my own eyes. Now I know that God is great and His love for me is great."
---
Relation over Religion
Aileen was a member of a local religious sect where usually when you decide to change from that belief then it's a no-way-out situation. She quietly attended at first the Bible listening group meetings. But when she felt God's presence in their Bible studies, and the strong prompting of the Lord's conviction . . . Aileen decided to accept the Lordship of Jesus . . . which contradicts her past religion denying the deity of Christ.
She now realizes that what's important is not religion but our relation to the Lord. Aileen thanks God that even in her old age she found new life. Today with Aileen, the Word is not just heard through ears (Audio Bible), not just read through eyes (printed Bible), but the living Word is now living in her heart!
---
"Turn On The Proclaimer!" - Rescuing The Street Children
Mark walked casually behind the unsuspecting man. In one deft movement, he took the razor in his hand, sliced the edge of the man's back pocket, grabbed the man's wallet and walked away.
Making his way through the crowded Philippine streets, he went to a nearby alley to look through the wallet. He was grateful to find a few dollars.
Now he would be able to get something to eat - he hadn't eaten since yesterday and was feeling dizzy. He threw the wallet away and went to buy food from a street vendor.
After eating, he walked back to the park where he was staying. On the way, he passed other kids like himself - standing in the middle of the street trying to sell trinkets as cars almost ran into them; asking for leftovers from people's meals; offering to shine the shoes of people walking by; selling drugs; selling themselves. But even when Mark worked all day, he was lucky to make a dollar, and he hated the way people treated him. It was easier to survive by becoming a good pickpocket.
When Mark got to the park, dozens of other kids were there. Some were sitting quietly, hunched over, their small backs against the dirty concrete wall. Some were in a group, laughing, eyes excited, big smiles on their faces. The cement glue they were sniffing dulled the hunger ripping at their insides and temporarily transported them to a happier place.
The park was good for the time being - there were drainage pipes nearby to sleep in and the trees provided shade from the blistering heat - but they never knew when they might need to move. They were always moving, moving, moving - anywhere they could be safe without someone beating them, raping them, or killing them.
Mark thought he was dreaming when, at the age of seven, the whole world he had known - sleeping in drain pipes, abandoned cars, and old buildings - came to an end and he went to live at the Faith, Hope, and Love Kids Ranch (FHL). For the first time, he had food on a regular basis and people who cared about him. He remembers the first time his head touched a pillow; he couldn't believe its softness - so different from the concrete drainage pipe or piece of cardboard he was used to sleeping on.
There were 40 other kids at FHL who had also been delivered from the streets: four three-year-old boys rescued from a sex ring, a young girl whose mother was beheaded in front of her, and the others, all with similar stories.
Last year, FHL received Proclaimers® in Tagalog. Now, the children listen to God's Word every nap time and at night, with His Spirit pouring like salve into their wounds, building up the broken places, and restoring that which was lost. If the caretaker forgets to turn it on, they yell, "Turn on the Proclaimer®! Turn on the Proclaimer®!"
Mark understands, like John, the importance of being near Jesus. John reclined by Jesus, the living Word. (John 13:23), and here is Mark, reclining as close as he possibly can, to the Word coming through the Proclaimer®.
Two million children still live on the streets in the Philippines. Faith Comes By Hearing has sent 5,970 Audio Bibles to the Philippines so far. Pray that God's Word will bring change for these children.
---
Blind Girl
Faith is blind and is very enthused and excited to listen to the Tagalog New Testament on the Proclaimer®every day. In fact, her family is involved in the conversation and listening, too. This is a picture of Faith inside the church in the Philippines.
---
The Family that Listens Together…
It is God's will that all men be saved and shall come to repentance; hence, give their lives to their Creator. Yes, salvation even for the entire household. This has been a long time dream, more so a prayer, for this housewife. She is a mother of three and her husband is an unbeliever and even doubts the existence of God. The family is not spiritually united and she worries that some day the children will not be that serious in their spiritual commitment.
The church leaders play a very important role in the spiritual needs of individuals. The Faith Comes By Hearing facilitator never gave up on this family. Along with the wife's prayer that one day the family will serve God all together, the facilitator visited the couple and invited them to church activities.
Then, the Bible listening program was introduced. Because of the facilitator's persistence, the church leader was able to convince the husband to attend the listening group. The first meeting went by; then the second; then the third. Throughout the weekly gatherings the wife just found her family regularly listening together to the Proclaimer®. During the process, her husband experienced something inside of him; she believed it to be the Holy Spirit's conviction.
No doubt…the family that listens together will stay together!
---
What a Redeemer!
Have you ever heard of the Rebel Without a Cause? Well, that sounds just like Kerra, a teenager from Manila. At the tender age of 16 she neglected her parents' counsel and chose to be with her friends; skipping classes, frolicking, partying, drinking, and smoking.
She failed everything: her subjects in school, her parents, and even herself. If there was such a thing as a Prodigal Daughter, it was Kerra.
With open arms, she felt the love of God embracing her and knew Jesus would be there to comfort her if all else failed. The Faith Comes By Hearing program has a way of dealing with our personal issues in life. Not just because of the Proclaimer®, but because of the message it carries. Kerra says, "I felt as if God was saying to me, 'Go live your life free, and sin no more.'"
Kerra has a renewed interest in life. She avoids bad company; but found good 'dudes' in the listening group. There is a new zest in her eyes and she has a bright outlook and perspective because she found new life and new birth when Christ entered into her life.
---