Audio Bibles for the People of Nepal
in
God's Word in Audio - Testimonies
Read below about how listening to God's Word in a heart language changes hearts and lives.
---
Reaching the Unreached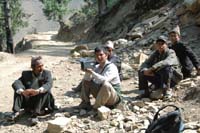 After several days of hiking into the Himalayas with Proclaimers, a group of missionaries shared the following: "By the grace of God the Gospel was preached to almost 1,000 people in an area that had never before heard the name of Jesus! By the end of the trip we had seen three totally deaf healed, several partially deaf and blind healed, several delivered from demons, and many other healings. To Him goes all the glory!!"
---
God's Word Heals a Broken Heart
"I was healed by believing in Jesus Christ five years ago. After receiving peace, joy, and mercy from God, I later forgot Jesus and backslid, refusing to take water baptism. I lost everything and had no hope in my heart.
"Once, while feeling completely sad, I went to a church service. The pastor and leaders asked me to attend the Audio Bible session afterward. While we listened, I remembered all the mistakes I had made since backsliding. In understanding the Word of God from the Proclaimer, I realized that my heart was broken. My eyes filled with tears, my whole body trembled, and the pulse of my heart became faster. At that time, God gave me a repentant heart and opened my spiritual eyes. Because of that Bible listening session, I decided to take the baptism of water and I continue to give many thanks to our Lord Almighty."
"Peace in my inner life"
"Before accepting Christ, my life was full of sorrow and struggle - my home and family life lacked both peace and physical health. Illness was a regular occurrence and, while we did all we could to stay well, I became very sick.
"I went to many hospitals and spent a lot of money on black magicians, but was never cured. A close relative told me to visit church for healing. Having only a small hope, I went to one near my village.
"There I introduced myself and shared the reason I was visiting. Members of the church told me that believing in Christ could bring healing, but I was not ready. How could Jesus heal me when I had already tried many medicines and visited various hospitals and black magicians?
"On that day, there was a Proclaimer listening session after the church service. The pastor told me to attend and that he would pray for me afterward. While listening to the Proclaimer, I heard the story of Jesus and Lazarus. Hearing that Jesus raised a man from the dead that had been buried for four days, I started to hope that Jesus could heal me and my family as well. After the discussion, the pastor and other believers prayed for me. Gradually, I started to see improvement in my health through the prayers of these believers.
"Now I am totally healed and have peace in my inner life; but my husband beats me, trying to force me to leave the Christian faith and church. But I have decided not to leave Jesus - please pray for my husband, that he will also believe in Christ as his Lord and Savior." - G. A.
---
Miraculous Healing
A family, which had suffered from demonic spirits for a long time, came to the village to celebrate a traditional religious festival. On the same day, there was a Bible listening program at a local church. The mother and her two sons attended the listening session, where she began to believe in Jesus while listening to Galatians 5. She got the impression that evil spirits would flee from their family if they believed in Jesus.
She said that every night, and sometimes in the daytime, an evil spirit would attack her. While she was attacked, she would have severe back pain and become unconscious. She went to black magicians many times, and an influential magician gave her a locket made of ashes and bone to wear around her neck. It had been prepared by chanting a mantra. She said she had to visit the black magician every six months to change her locket.
After one week of listening, she and her family came to receive Christ as their Savior. These three have now been saved in Christ as a result of the FCBH Audio Bible listening program. They are totally free from the evil spirits and regularly attend church services. They want to give thanks to the Lord in His mighty name for this opportunity." - S. S.
Sick Girl Healed
Karuna is nine years old and from the central region of Nepal. She and her mother were abandoned by her father. She began having respiratory problems, but her mother could not afford medical care for her. Her mother initially took her to the witchdoctor and they tried every treatment familiar to the community.
Karuna finally became so sick that her mother took her to the Children's Hospital where she was diagnosed with a heart and lung problem. She was referred to the heart hospital in Kathmandu. When her mother was informed Karuna needed a heart valve transplant that would cost the equivalent of $4,286 (U.S.), she fainted. The cost was completely impossible for her.
One day a neighbor's friend shared the Gospel of Jesus Christ with her but she told her that she didn't want to hear anything about other religions.
Soon thereafter, she heard the Word of God coming from her neighbor's house during a listening group. Tears started to run down her face uncontrollably and she suddenly became aware of feeling lonely and deserted. She slowly entered the fellowship, taking Karuna with her, and as she listened to the book of Mark, she felt the Word of God touch her heart.
The church leaders and believers prayed for Karuna and she and her Mother both received Jesus as their Lord and Savior the following week. Within one month, Karuna was completely healed! She and her mother both continue to grow spiritually as faithful attendees of the FCBH listening group.
---
Audio Bible Listening Programs in Nepal Church
This church of about 200 believers uses the Nepali Audio New Testament in their two house fellowships and 22 people are participating in the listening program. These participants are learning many things through hearing the Word of God and are growing spiritually. During the time of listening, two new people also joined the fellowship, intrigued by hearing the Word in their own language.
Before she started listening, one sister explained that because she is uneducated and cannot read, she found it very hard and uncomfortable to participate in the church fellowship. Now, through the listening program, she can listen to the Word of God and she feels that God Himself is talking. She said that she is growing nearer to God and promises that she will live by the Will of God and commit her whole life to Him for His work. Her life has changed and she understands better who God is.
The pastor said that he is very thankful to God and Faith Comes By Hearing, who provided the Audio Bible in a language that the people can understand. He said that believers who are unable to read and write are happy to have the Audio Bible.