Audio Bible for the People of India
in
Faith Comes By Hearing in India
Please pray:
for God to comfort those who lost loved ones in the violence.
that believers will be able to freely move about and attend to the needs of their family members.
for immediate peace in this historically-troubled area.
for the safety of FCBH workers as they proceed to bring God's Word to those in India who are cut off from the Word of God. that Audio Bible recordings will resume soon.
What is Faith?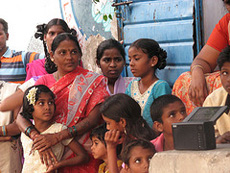 Jaya, a 16-year-old girl, says, "I wanted to know what does faith comes by hearing mean. I heard the word faith but did not know what it was. I thought faith meant doing [rituals]. But as I saw that name on a Proclaimer, I did not know how faith will come from this black box. As I listen to it, as the stories are going into my brain and heart, I realized that someone is talking to me, guiding me, changing my thinking. I used to worry a lot about my grandparents who are lonely at home and about my future as I am an orphan; but when I remember the words from the Proclaimer about the birds of the air and the lilies of the valley, I get courage to move forward. Also, one day my leg was badly hurt as I fell from the staircase. I prayed and asked Jesus to heal my leg pain and the next day the pain had gone. Now I understand what is meant by faith — it is having a personal relationship with Jesus on a daily basis [rather] than doing some rituals. Thanks for this wonderful instrument."
---
God's Word for Me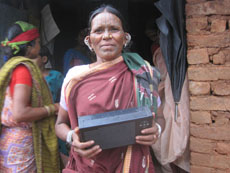 "One evening I came back from my field work very tired and found my five-year-old son dead after being bitten by a poisonous snake. My husband had passed away two years before. I was in such shock that I did not come out of the house for one month, even after people tried to comfort me.
"Then my pastor invited me to come to a listening group nearby. He continued to remind me of it until I finally came. That day I heard Matthew 11:28: Come to me all who are weary and tired. I will give you rest. I heard Jesus speaking in my own language [Kui]. I asked the pastor what this meant and he told me the real 'rest' is with Jesus. We will get it when we 'go' to Him, not by staying home alone.
"As I listen to the Proclaimer, I feel it is made only for me. I don't know how the Proclaimer understands my problems; whenever I listen it directly addresses my situation. From that day, I always attend the listening group and share about Jesus with others."
---
Trust, Accept, & Testify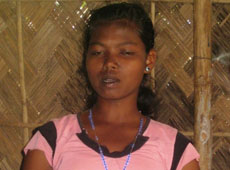 M.O. used to be very sick. Her father took her to several places to sacrifice hens and goats, but there was no improvement. The family was very poor having to spend so much money on her. One day, some village people invited her to attend a listening group; so she did and heard the Gospel message for the first time. She liked the story and was interested in knowing more about Jesus. She slowly started trusting in Him, and finally accepted Him as her Lord and Savior. Today, she testifies that her family has joy, peace, and all the required food and happiness, which they never had before. She attends the listening group regularly and takes great interest in sharing her faith with others. Pray for her family's spiritual growth.
---
A Tearful Confession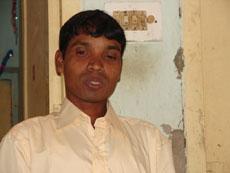 "I was a nominal Christian for 13 years – never attending church, praying, or reading the Bible. I was very short-tempered, always grumbling, and had no joy or peace of mind within me. The loneliness and guilt I felt brought depression and anxiety, which led to the darkness of drug use and immoral activities. Without any hope, insecurity gripped my life and I decided to end it.
"One local pastor visited my family every week and motivated my wife and children to join the fellowship; they began attending without my knowledge. One day I asked my wife where they were going every Friday evening and found that they were attending the prayer fellowship conducted by the pastor's family.
"My wife shared her experience and how the Lord Jesus had granted her grace, endurance, patience, and faith after she listened and believed in His Word. Hearing this, I decided to attend the prayer fellowship on the following Friday, thinking that I would get answers to the questions puzzling my life.
"The program was on Mark 15. I listened to the Word of God attentively and came to learn that it was about the crucifixion of Jesus. The impact of listening to the story about releasing the criminal Barabbas and crucifying Holy Jesus troubled my heart and mind. I started comparing my life with Barabbas's, for whom the Lord Jesus sacrificed His life. Tears rolled down my cheeks and in prayer I confessed all my wickedness and sins before the Lord and surrendered my life to Him to obey and follow him sincerely. That evening I discovered new life with my family.
"After this, my life situation was transformed; my attitude and behaviors completely changed. Now I regularly pray and meditate on God's Word and have joined the church. Overall I learned contentment through listening to and believing in the Word of God." – C.N.
Listen While You Work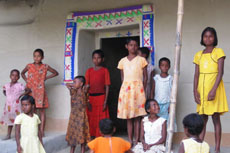 Nandan, a non-Christian gentleman with a clothing embroidery business, became acquainted with a representative of one of our partners. Told that he could listen to the story of Jesus with his family and workers while making their products, Nandan agreed to use a Proclaimer. They all found it fascinating to listen while working and this has since turned into an everyday practice for his company. Over time, Nandan and his family have become all the more interested in knowing about Jesus, and their faith in Him grows stronger and stronger as they learn of His transforming power. Nandan's father lost his eyesight and also finds it a great joy to listen. Please pray for this family to enter into a relationship with Jesus and truly begin following Him!
My Future is in God's Hands
"Poverty made my life utterly dark and depressing; there was no peace or hope for the future. I even began to contemplate suicide. Many in our village were attending the Audio Bible listening program, so I decided to go, not realizing what great things would happen for me there. I heard about the Supreme God who can take away all the agonies of those who trust in Him—as He promised, Come unto me all who are heavy laden and burdened; I will give you rest. This call of Jesus Christ seemed to be for me and for me alone. I put my trust and confidence upon the Lord and instantly felt that He took away all my burdens and sorrows. I felt a great ease and relaxation that I never had before; I received the hope of my future. I submitted my life unto the Lord who assured me that I shall never be left or forsaken." - I. R.
God's Peace Granted
"The organizer of the Audio Bible program visited my house and invited me to join the listening at church. That day I was very weary and tired, but reluctantly participated. As the listening started, I was startled to hear the Bible in my language and able to understand the words without difficulty. Those words seemed to be speaking directly to me. I was hearing for the first time about God's love for sinners and His sacrifice to save them, which troubled my heart. Then the organizer explained about God's love, and told us that everyone who leaves their wicked ways and asks His forgiveness will receive salvation and blessing from Him. After this I returned to my house with a lot of anxiety. Before going to bed I prayed, God if your Words are true, and you are the real God, before I see a new day let my life be filled with the joy and happiness I have searched for these many years. The next day my joy was so great; God granted His divine peace and all my situations began changing." – L. D.
God's Word in Their Hearts
India's Believers Church has started 20 house churches using the Hindi Proclaimer, with 35-40 members each. Pastor says, "Many are coming to faith and doors are being opened. People used to attend only on Sunday, but when Faith Comes By Hearing started, they started listening every day in the house churches. Why? Because it's not 'human word' but God's Word in their hearts."
---
God Releases Burdens
Maria used to worship idols, sacrificing animals to them. The practice was that the leg of the sacrificed animal was left to feed the dogs and foxes, but because of her poverty, Maria would keep the legs to feed herself and her family.
When her husband became ill and died, she and her son were left to fend for themselves. Maria's son would go out daily to look for work in order to provide for their needs. There was no one else to help them.
One day while Maria's son was working he met some people who were handing out tracts. They gave him a tract and shared the Gospel with him. He went home for the day to find his mother crying from her despair. He told her about the Lord and said, "He is the real God. If you believe, He will save us from all our burdens." He also told her that he now believes in the Lord and encouraged his mom to believe as well.
A little bit of faith began to rise up in Maria's heart.
She says, "We removed all of our idols from our house and also from our hearts. God me the opportunity to share the Gospel with people like me. After my pastor told me about the Faith Comes By Hearing Audio New Testament in Banjara, I began using it to conduct listening sessions wherever I go. The Lord is doing many miracles among our Banjara people through this Audio Bible, and is strengthening our innocent people in faith. I am very thankful to the Lord for giving us a very, very precious gift."
Divine Peace
Faithful partners in India show the JESUS film, and use Faith Comes By Hearing programs as a follow-up for discipleship.
Here is one testimony of a man who was an active follower of a local religion, but was also an alcoholic and admits to searching for peace. After seeing the JESUS film, a staff member and a local pastor visited him. They prayed for him and invited him to a New Life listening Group. While listening to the Word of God, he experienced the kind of peace that he had never known before. Realizing that only God could give this kind of peace, he put his faith in Jesus.
Now he and his family regularly attend a New Life listening Group.
The Most Precious Possession
"Get away, you can't have this! It's the only thing I've got!" The elderly man tries frantically to get Vijay away from his Proclaimer as he yells, "This is the only thing I kept when I escaped!"
He thinks this younger man is there to steal it.
Vijay explains that he is a team leader for Faith Comes By Hearing and says, "I'm not here to take your Proclaimer. I work for the place that makes them...where did you get this?"
As the man calms down, he explains that he had been part of a listening group. But then hundreds of extremists attacked the village, killing Christians. He fled for his life, taking nothing but the Proclaimer with him. It was the only thing he saved.
Vijay explains that he and his family, too, fled from the mob. He was walking through the refugee camp when he heard the audio Word of God coming from somewhere. He followed the sweetest of all sounds to the little makeshift lean-to where he found the elderly man sitting, listening to God's Word.
For four days before fleeing for his life, Vijay received phone calls telling him that if he did not renounce Christianity, he would die. Then, hundreds of extremists flooded the village, beating and murdering people, even setting a church on fire.
Now, as Vijay walks among the crowds of shocked, traumatized people, the confusion, pain, fear, and loss are palpable around him—a woman staring blankly into space, a terrified child clutching a toy, an old man crying for help, babies screaming incessantly. Then he hears God's Word in Oriya being spoken—and follows this, the most beautiful and comforting sound.
Life in the midst of death; light in the midst of darkness. God's Word, the most precious, valuable thing to possess.
Vijay broke down as he shared this story.
Vijay is currently working to start Faith Comes By Hearing listening groups in the six refugee camps. Pray for his safety as he does so, and for all of our brothers and sisters in India enduring persecution in Orissa.
Thank you New Life Baptist Church in Albq. NM, and Windermere Ministries in Windermere, FL, for providing God's Audio Word in Oriya.
---
Audio Word of God: One Truth for All
Fast Facts
Assam has extremely rich biodiversity.
The Indian caste system is less entrenched here.
89 percent of the population is rural.
Audio Bible recordings for India are carried out by the FCBH Recording Center headquartered in Hyderabad. In 2007, a two-person recording team traveled more than 1,400 miles from Hyderabad to Assam's state capital, Guwahati, for this project. The team worked for eight weeks in a soundproof studio, which is unlike many other recording teams who work in makeshift studios in the field.
The team worked long days, sometimes as long as twelve hours, to record the Assam Audio Bible. They report that the process went very well, though, and that the professional and amateur readers chosen for the project were all cooperative. In May 2007, the Assamese Audio Drama New Testament was released for production on Proclaimer and in MP3 format.
Faith Comes By Hearing's Audio New Testament listening programs will help reach the Assamese nation with the Word of God in their mother tongue – the language used with friends, family, and the Lord. Audio New Testaments have a powerful impact on listeners, teaching biblical truths that bring freedom, hope, and salvation.
---
Proclaimer Unites a Village
In southern India, a single Telugu-language Proclaimer is being shared by 22 villages, with over 1500 people listening each week. As a result, many are coming to the Lord and being baptized. Nearby, one group started playing a Kannada Proclaimer in a village of untouchables, and within five minutes nearly 250 people had gathered to listen.
---
Listening to Audio Bible Changes Church
In one Sora-speaking village, a church secretary objected to conducting FCBH Audio Bible listening programs. Per a report from the field, Mr. Bhuyan feared that the "unity and sanctity of the church would be lost." But the pastor and the FCBH field staff played John 1 for the entire church and the Holy Spirit touched their hearts. Hearing the Word of God in their own language, God spoke "so closely and so dearly, especially to Mr. Bhuyan. Mr. Bhuyan was convicted and asked to be forgiven. Now he is the one who holds the responsibility of administering the program! Mr. Bhuyan told FCBH workers in India, "I am the happiest man in the world, because facilitating God's Word for my own people in their heart language is something inexpressible."