Audio Bible Burundi
in
God's Word in Audio - Testimonies
Reaching and discipling Burundi's poor and illiterate people with the Word of God in audio.
---
Matthew 11:28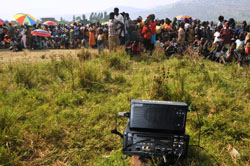 "I am a widow and mother of children. Before the Faith Comes By Hearing program, I had so many problems that I thought God did not exist – or, if He did, that He did not love me. I was manhandled, disdained, and persecuted within my family. They wanted to force me to marry someone I didn't like at all, and later expelled me. When I listened, I was touched by Matthew 11:28: Come all to me, you who are tired and loaded, and I shall give you rest. From that moment, I was comforted and received Jesus Christ as my personal Savior. Now I have peace in my heart; I am sure that God loves me and does not have misfortune for me. I am now encouraging other widows by reassuring them that God loves them also. I thank God for the Bible Society in Burundi which brought this listening program." – G. M.
---
Kirundi Audio New Testaments
An estimated 8.3 million people live in Burundi, a nation nestled on the western shore of Lake Tanganyika in central Africa. Although Burundians are united by a common language, Kirundi, bitter relations continue between the majority Hutu and the politically dominant Tutsi. Since 1994, civil strife has left hundreds of thousands dead.
Donations from a husband and wife in America allowed the FCBH Kenya Recording Center to record the Kirundi Audio New Testament. The recording was mastered in the MP3 and Proclaimer formats in 2007. FCBH sent 300 Kirundi Proclaimers to the Bible Society in Burundi to use for the colporteur training and program launch this past June.
Numerous Christian leaders attended the inaugural festivities. Four colporteurs successfully completed their training and honed their FCBH presentations by practicing with each other. In just the six months from July through December 2007, the team established 115 listening groups with 954 participating men, women, and children!
Quote
Some people didn't go to church before the implementation of the FCBH program in our church, but because of this program some have come to church, either by curiosity, or on invitation, and they got saved later."
-- Rev. Jean-Bosco Subire, Eglise de Dieu de la Prophétie au Burundi
The Bible Society in Burundi's General Secretary, Marjorie-Euphrasie Niyungeko, recently visited Faith Comes By Hearing in New Mexico. Madame Niyungeko, a former judge, has been with the Bible Society since 1995. When asked about the challenges of getting Burundians into the Word, she cites nominalism and syncretism. Although an estimated 80 percent claim to follow Christianity, many maintain their traditional animist beliefs. "A lot of people practice witchcraft and still say they are Christian," Madame Niyungeko explains.
"We present the Bible and this program and it keeps the leaders from saying things that are erroneous – it gives them a strong base. Now, pastors back up their claims about what is scriptural. Because of the powerful nature of the Word of God, people who hear get saved, and are healed. When the Word of God talks of forgiveness in a country that has seen so much hatred and violence, they start asking themselves what forgiveness really means and ask 'Am I really a Christian?' "
– Marjorie-Euphrasie Niyungeko, Bible Society in Burundi